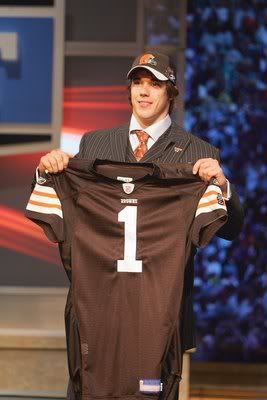 The Super Bowl is over and I'm just about sick of hearing about the Packers' glorious vanquishing of the hated
Steelers
, as pleasant as it may be. So let's switch gears a little bit. We all know that organizations that draft well are generally successful, as the Packers and
Steelers
have just demonstrated and many writers have covered in detail. With that in mind, let's take a look at a few predictions for the coming draft.
Mocking the Draft is one of my favorite sites for draft info.
Member Jon Dove has the Browns selecting Robert Quinn, DE from North Carolina, at #6 overall. Unfortunately, Dove sees the Bengals snagging A.J. Green a couple spots ahead of the Browns. He also has
DT
Marcel
Dareus
from Alabama sliding until the eleventh pick. If the first five picks pan out as he projects, I think
Dareus
will definitely be an option along with Quinn.
A player to keep on eye on in Round 2 is Pitt receiver Jonathon Baldwin.
His size, sure hands, and ability to run after the catch could fit well in the Browns' new West Coast offense, especially if
Holmgren
and company do not take Green or Julio Jones in the first round. Baldwin does not appear to have world class athleticism and does not have a great ability to gain
separation
from defenders, but he is capable of making tough catches and easy catches alike despite good coverage.
Here is a look at two guys that are not often discussed for the Browns' pick at #6.
Dawgs
By Nature member
realmccoy
believes that Von Miller, LB from Texas A&M, and Prince
Amukamura
, CB from Nebraska, are likely candidates to be selected by the Browns. Von Miller, a great pass-rushing linebacker, would improve the meager pass rush of the Browns, but he may fit better in a 3-4 scheme. I don't believe the secondary is a big concern with our two rookies playing so well, but Sheldon Brown is not getting any younger. The thought of
Haden
and
Amukamura
roughing up and shutting down opposing
wideouts
reminds me of what it must have been like to see
Hanford
Dixon and Frank
Minnifield
barking at the
Dawg
Pound. There are certainly bigger needs for the Browns, but there is something to be said for taking the best player available and strengthening a strength. For what it's worth, ESPN.com lists Miller and
Amukamura
as the 5
th
- and 8
th
-best prospects in this draft.
By my count there are only 78 days left until the draft begins, so until then it's all just speculation. But it sure is fun. Be sure to check back for more Browns news, notes, predictions, and who-knows-what-else.