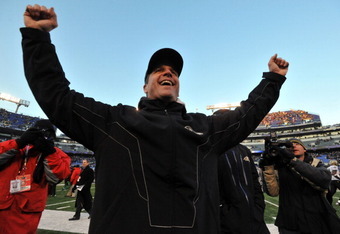 Last Week I took a look at The Baltimore Ravens
future opponent schedule
. Last post I analyzed the home opponent schedule. I gave my thoughts and made a prediction for each and every game. In this post I will be looking at the away schedule.
Away Opponents (Division)
Cincinnati Bengals
Cleveland Browns
Pittsburgh Steelers
As always, we have those pesky division opponents. First up is the Cincinnati Bengals. Cincinnati always give Baltimore a run for its money when playing downtown at Paul Brown Stadium. In 2010 Baltimore had a lot of trouble containing an average Bengal defense. The biggest problem for Baltimore was Joe Flacco's performance. Joe couldn't hit a receiver down field to save his life. Cincinnati is slowly falling apart every year. If Palmer decides to leave this off-season it would help out The Ravens a lot. If he stays, there will be some problems. Regardless, I'm going to give Baltimore a W in the win column.
Next, we have the Cleveland Browns. Cleveland has an up and coming team. Peyton Hillis is one of the best running backs in the league and Colt McCoy was starting to come on at the end of the season. Baltimore shouldn't have too many problems with Cleveland. I say this is a win.
Lastly, is the god awful Pittsburgh Steelers. Whenever Pittsburgh and Baltimore meet up it's a war. As much as I love The Baltimore Ravens I can't say they will beat Pittsburgh at Heinz Field. Pittsburgh owns Baltimore when the
rapist
is under center. The Ravens always seem to shoot their self in the foot when playing Pittsburgh. I don't care how many times we play Pittsburgh, Its the same every time. Baltimore has an opportunity to put the game away. They go conservative and Pittsburgh scores on the last drive of the game. So as you can see I HATE PLAYING PITTSBURGH. I'm give The Ravens a loss this game.
Away Opponents (Continued)
Jacksonville Jaguars
Tennessee Titans
St. Louis Rams
Seattle Seahawks
San Diego Chargers
First on the away opponent schedule is The Jacksonville Jaguars. Jacksonville is a mediocre team that had a shot at winning the division in 2010. The only thing that could hurt The Baltimore Ravens is the bowling ball that Jacksonville has in its backfield; Maurice Jones-Drew. MJD is a top five running back and carried my fantasy team for a few weeks during the 2010 season. If Baltimore continues to digress in the Running Game Jacksonville could cause an upset. The good thing is that if The Ravens stop the running game of The jaguars, they have nothing else that is lethal. Baltimore wins this one
Next, is the Tennessee Titans. Tennessee causes the same problem as Jacksonville. Chris Johnson may be the best running back in the league but once you stop him there is nothing else for Tennessee to do. I'm giving Baltimore the W.

After that, Baltimore Travels to the Midwest to meet up with the St. Louis Rams. This game actually scares me a bit. Sam Bradford is one of the best young quarter backs in the game. St. Louis went out this season and hired Josh McDaniel as their Offensive Coordinator. I thought this was a great move for St. Louis. The Rams are a great offensive team. With both Mark Clayton and Donnie Avery hurt for out for almost the entire season, St. Louis has a spark on the perimeter. I haven't even mentioned Stephen Jackson yet, This guy is a beast too. I think that St. Louis will cause problems in Baltimore's secondary. I'm gonna take St. Louis in this game.
Next up Baltimore is scheduled to travel all the way to Seattle. Seattle was a surprise in 2010. A team that is in a weak division that ended up knocking off the defending Super Bowl champs. If Baltimore isn't effected too greatly by the trip to Seattle, they shouldn't have much of a problem. I'm gonna say Baltimore gets the win by at least 10.
Last up is the always tough San Diego Chargers. When San Diego and Baltimore match up its always a great game. In their last meeting, San Diego was driving for a last minute game winning touchdown until
Ray Lewis came unblocked
to tackle Darren Sproles in the back field to end the game. After coming off one of his best years in San Diego, Phillip Rivers will be a tough test for the Ravens Secondary. Rivers had his best year without his best receiver; Vincent Jackson. This game will be close but I'm gonna say Baltimore Pulls out the win.
I'm predicting that The Baltimore Ravens will go 6-2 on the road this year. This a is a great record to finish with. Hopefully Baltimore will earn a high playoff seed.