This may not be mind blowing news to anyone but Ed Reed and Ray Lewis are getting older every year. Reed and Lewis are two of the greatest players in Baltimore franchise history and in the history of the NFL. Lewis is the heart and sole of The Ravens defense and in some cases, the whole team. Ed Reed is one of the greatest play makers on the defensive side of the ball the NFL has ever seen (Some may argue that Polamlalu is). These two beasts of the east have been declining in play the past few years.
In the past two years Ed Reed has missed multiple games. He missed 4 games in the 09
-10 season and missed a career high of 6 in the 10-11 season. Reed is a great safety but he doesn't follow the playbook. He roams the field where and whenever he likes. 60% of the time when a quarterback throws over the top Reed gets beat. He gambles and tries to jump a route or he gets left in the dust by a much faster wide receiver. When Reed is not getting beat on routes he is making soft tackles or getting run over. Reed getting older and being injured more often his tackling has declined. He is afraid to get hurt so he tackles in the most awkward forms. Every once in a while Reed will make that tackle that makes you go
WOW!
Bust when the ball carrier gets in the secondary, the last thing in Ed Reed's mind is bring him to the ground. Reed will punch and try to strip the ball out. While this happening the runner is gaining 20 yards.
As I've stated before, Ray Lewis' play is getting worse too. He is a lot slower horizontally and he is missing tackles he would of made easily about five years ago. I should really be grateful for Ray Lewis. I mean a guy who is almost 40, been in in the league for over 15 years and plays one of the most physical positions in the game is still the best at his position. Can't ask for much more.
So who or when should the Ravens draft a back up for these guys? Well Baltimore drafted Sergio Kindle last year in the second round. Shortly after being drafted Kindle fell down a flight of stairs in his house. Kindle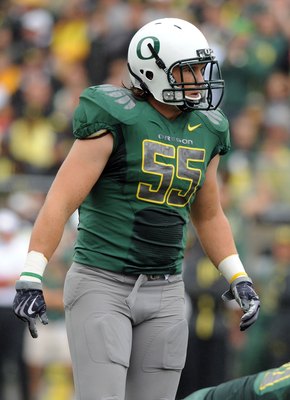 missed the entire 10-11 season. Could Kindle replace the great Ray Lewis? My answer is no. Kindle is a defensive end who will probably be moved to an outside rusher to follow in the shadows of Terrell Suggs. Antother reason Kindle isn't fir for the MLB role is he isn't mature enough. Kindle has been reported driving while under the influence, and I'm not buying that he fell down the steps because he couldn't see. He was most likely tipsy. So the guy I think that could possibly replace Ray is Oregon Duck Casey Matthews. The brother of Green Bay star Clay, has reportedly met with Baltimore twice while at the combine.
So who could possibly replace a ball hawk like Ed Reed? Well I thought a great candidate w
as Jim Leonhard. Leonhard only played one season in Baltimore but he was a fan favorite. A guy standing only 5'8 but had the heart of a lion. This guy never backed down from a challenge. He was smart and could football like it was no one else's business. Sad thing is Leonhard left for New York along with Ex-Ravens Bart Scott and Rex Ryan. Leonhard could play safety but also could return punts. This could of been golden for Baltimore if he stayed to help out the struggling kick return. One guy that could replace Ed Reed in the future is Rahim Moore from UCLA. Moore was voted to the 2010 The Sporting News All-American First-Team and the Associated Press All-American Third-Team. Moore recorded 180 tackles and 14 interceptions in his three years at UCLA. I could see this guy stepping up big time behind Ed Reed.